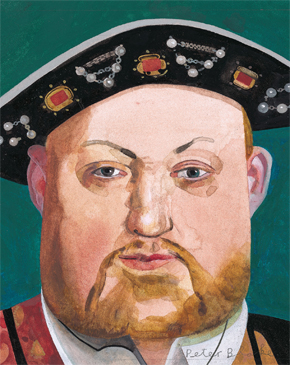 'Penguin Monarchs' series – publication: 4th December 2014
'Henry may have wanted to go down in history as an Old Testament patriarch and the new pope in England, but in the king's most celebrated three-quarter-face portrait, his features are cold and threatening and his piggy eyes glower with suspicion.'
Charismatic, insatiable and cruel, Henry VIII was, as John Guy shows, a king who became mesmerized by his own legend – and in the process destroyed and remade England.
Said to be a 'pillager of the commonwealth', this most instantly recognizable of kings remains a figure of extreme contradictions: magnificent and vengeful; a devout traditionalist who oversaw a cataclysmic rupture with the church in Rome; a talented, towering figure who nevertheless could not bear to meet people's eyes when he talked to them.
In this revealing new account, John Guy looks behind the mask into Henry's mind to explore how he understood the world and his place in it – from his isolated upbringing and the blazing glory of his accession, to his desperate quest for fame and an heir and the terrifying paranoia of his last, agonising, 54-inch-waisted years.
TABLE OF CONTENTS
Introduction
Shaping a Life
The Pope's Loyal Son
A Man of Conscience
Arbiter of Christendom
A Second Solomon
Epilogue
John Guy is a very good historian who knows Henry VIII better than almost anyone. An immensely satisfying introduction to the large and moody monarch … Guy presents us with the key to understanding Henry.

Diarmaid MacCulloch,The Guardian
Guy takes us beyond the mask constructed by Henry to overawe his subjects and posterity … In his description of Henry's self-aggrandising portraits, statues and buildings, he brings us close to the king.

Ben Wilson,The Times