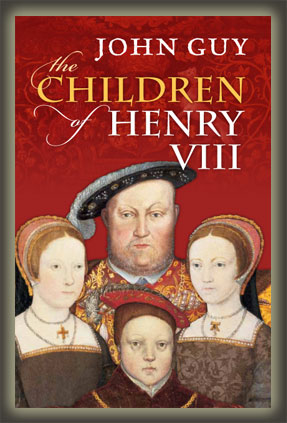 Publication in hardback and ebook, 25 April 2013, Oxford University Press.
Behind the facade of politics and pageantry at the Tudor court, there was a family drama.
Nothing drove Henry VIII, England's wealthiest and most powerful king, more than producing a legitimate male heir and so perpetuating his dynasty. To that end, he married six wives, became the subject of the most notorious divorce case of the sixteenth century, and broke with the pope, all in an age of international competition and warfare, social unrest and growing religious intolerance and discord.
Henry fathered four living children, each by a different mother. Their interrelationships were often scarred by jealousy, mutual distrust, sibling rivalry, even hatred. Possessed of quick wits and strong wills, their characters were defined partly by the educations they received, and partly by events over which they had no control.
Henry Fitzroy, Duke of Richmond, although recognized as the king's son, could never forget his illegitimacy. Edward died while still in his teens, desperately plotting to exclude his half-sisters from the throne. Mary's world was shattered by her mother's divorce and her own unhappy marriage. Elizabeth was the most successful, but also the luckiest. Even so, she lived with the knowledge that her father had ordered her mother's execution, was often in fear of her own life, and could never marry the one man she truly loved.
Henry's children idolized their father, even if they differed radically over how to perpetuate his legacy. To tell their stories, John Guy returns to the archives, drawing on a vast array of contemporary records, personal letters, and first-hand accounts.
Guy tells this story with his usual intelligent verve … The latest historical theories are discussed, but not elevated above their place in the narrative. The result is a smart, lively little book enriched by the reliable pleasure of Guy's prose, his pen dancing as deftly about his compact historical portraits as Horenbout's brush once did over his stunning miniatures.

Dan Jones, The Sunday Times
John Guy is that rare cross: a scholar who also writes for the popular market. It shows here, as he sketches with verve and fluency the education and the beliefs, as well as, briefly, the reigns of these last Tudors. But where he excels is in illuminating the relationships between the squabbling siblings. They say if you've got lemons, make lemonade, and in Guy's hands the story of The Children of Henry VIII is fresh, sparkling and sharp.

Leanda De Lisle, Literary Review
…a stunning psychodrama…brilliantly evoked…

The Lady
…packs a mighty punch…

Steve Craggs, Northern Echo
A pacy and accessible narrative of the unfolding family drama … Guy presents it with typical narrative flair and attention to detail, producing a book with obvious appeal.

Choice of the month, BBC History Magazine, May 2013
Treats and surprises in store for the reader … well-written, well-researched and a lot of fun.

Jonathan Wright, Glasgow Herald, May 2013
Study of rivalrous siblings that breathes new life into familiar material.

Sunday Times, Culture Magazine, May 2013
With the panache for which Guy's work has become known, The Children of Henry VIII portrays the childhood nightmares of Britain's most celebrated dysfunctional family … [It] is a portrait miniature of a book, skillfully portraying the character of an age, yet managing to do so with enough detail and care to bring its subjects to life.

Chris Skidmore, Times Literary Supplement