New 'Very Brief Histories' Series, SPCK Publishing
People, movements and ideas that have shaped the world and how we understand it.
'If the English people were to be set a test to justify their history and civilization by the example of one man, then it is Sir Thomas More whom they would perhaps choose.' So commented The Times in 1978 on the 500th anniversary of More's birth.
Twenty-two years later Pope John Paul II proclaimed Thomas More to be the patron saint of politicians and people in public life, on the basis of his 'constant fidelity to legitimate authority and…his intention to serve not power but the supreme ideal of justice'.
In this fresh assessment of More's life and legacy John Guy considers the factors that have given rise to such claims concerning More's significance. Who was the real Thomas More? Was he the saintly, self-possessed hero of conscience of Robert Bolt's A Man for All Seasons or was he the fanatical, heretic-hunting torturer of Hilary Mantel's Wolf Hall? Which of these images of More has the greater historical veracity? And why does this man continue to fascinate, inspire and provoke us today?
Publication: March 2017
Table of Contents
Chronology
Part 1: The History
1 Shaping a Mind
2 Utopia
3 The King's Servant
4 The Dissident
Part 2: The Legacy
5 More's Writings
6 Thomas More in Art
7 Canonisation
8 The Lure of Fiction
Epilogue
Glossary
Notes and References
Further Reading
Index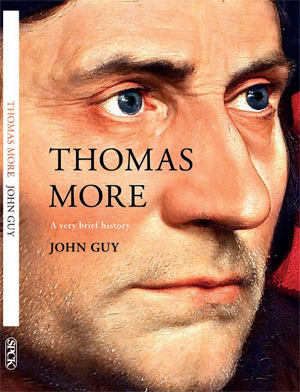 A miniature jewel on Thomas More, from the snakepit of the Tudor Court to his canonisation and latest role as enigmatic protagonist of blockbuster historical fiction.

Diarmaid MacCulloch, The Tablet
What a treat this little book is. Without a word wasted, John Guy introduces us in turn to Thomas More's life, his image in art (where would More be without Holbein, or Holbein without More?), and his afterlife up to canonisation and Hilary Mantel…No one is better qualified than John Guy to round up this considerable life and enduring influence.

Diarmaid MacCulloch, The Tablet